When I lived in Venice, my apartment was in the Dorsoduro neighborhood, where Caterina lives. I placed her house in Dorsoduro's famed Cà Dario, which faces the Grand Canal with tiny and picturesque Campiello Barbaro behind it. Living around the corner from here, I soon became a regular at the bakeries, butcher shops, and wine shops of this (relatively) off-the-tourist-track neighborhood.
Each day I would do research at the Marciana Library, but by mid-morning, I would inevitably be hungry (breakfast in Italy is light.) I took to hitting one of the cafes in Piazza San Marco for tramezzini: Venetian tea sandwiches, fatter and more flavorful versions of English tea sandwiches. This is how I discovered that in fact, I do like white bread and mayonnaise, and anyone who tells me they don't, I say, you haven't tried a Venetian tramezzino!  The white bread and mayo balance and moisten the various savory ingredients inside, making the whole mouth-poppingly delicious.
Venetian tramezzini (English-style tea sandwiches)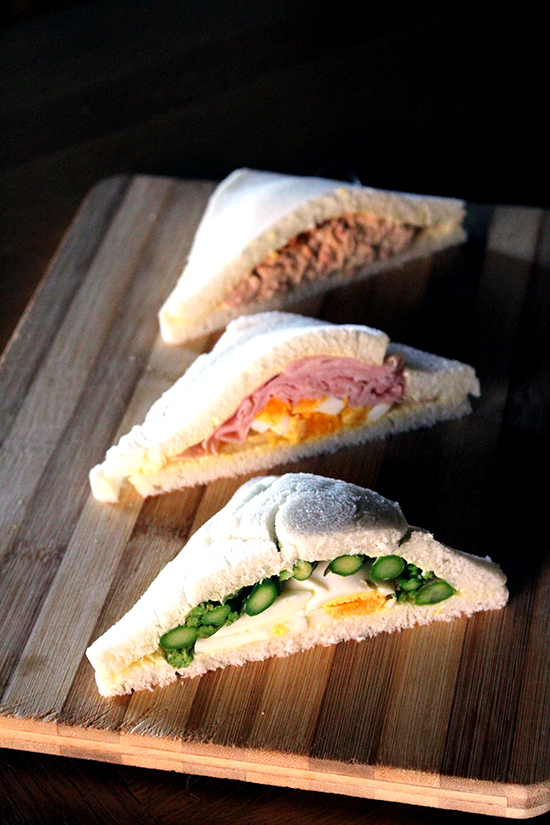 Makes 12 half sandwiches
12 slices white sandwich bread
3⁄4 cup mayonnaise
Salt and black pepper
5 oz. canned tuna in olive oil, drained and flaked
1⁄3 cup pitted black olives
2 tsp. capers, rinsed
6 asparagus spears, blanched and sliced (if out of season, I recommend using baby spinach leaves, sauteed briefly in a little olive oil and garlic)
2 hard-boiled eggs, sliced
1 tomato, sliced (if out of season, use the best you can find; usually smaller is better)
6 oz. thinly sliced bresaola
2 oz. thinly shaved parmesan
1 cup baby arugula leaves
Have on hand: serving plate, plastic wrap, and a dampened kitchen towel
I recommend preparing two at a time because the priority is keeping the bread from drying out.  Remove crusts from 2 pieces of bread and spread 1 tbsp. mayonnaise over each slice; season with salt and pepper. Layer each with tuna, olives, and capers; then remove the crusts from 2 more pieces of bread and lay these plain pieces on top.  Slice the sandwiches diagonally and place on serving  plate; cover immediately with plastic wrap. Lay the damp towel over the wrap to keep moisture in.
Repeat the assembly process with asparagus, eggs, and tomato; then, with  bresaola, Parmesan, and arugula.
Back at the Marciana Library with my nose in a book, I would anxiously eye my watch as 1 PM approached. All the shops would soon close for pranzo and nothing would open again until late afternoon. I might miss lunch entirely!  Seized by food terror, I would dash for home, either on foot, or, if I'd really pushed it too long in the library, I would jump in a gondola and quickly and bumpily cross the Grand Canal back to Dorsoduro.  I pride myself that I never once missed lunch: my priorities are straight!
Lunch in Venice was usually fresh-baked focaccia, topped with rosemary and green olives. This, I paired with fresh-sliced prosciutto and creamy, North Italian Taleggio cheese.  I would also often buy artichokes marinated in olive oil, and in this way enjoyed a perfect Italian lunch.  
Focaccia with Rosemary and Green Olives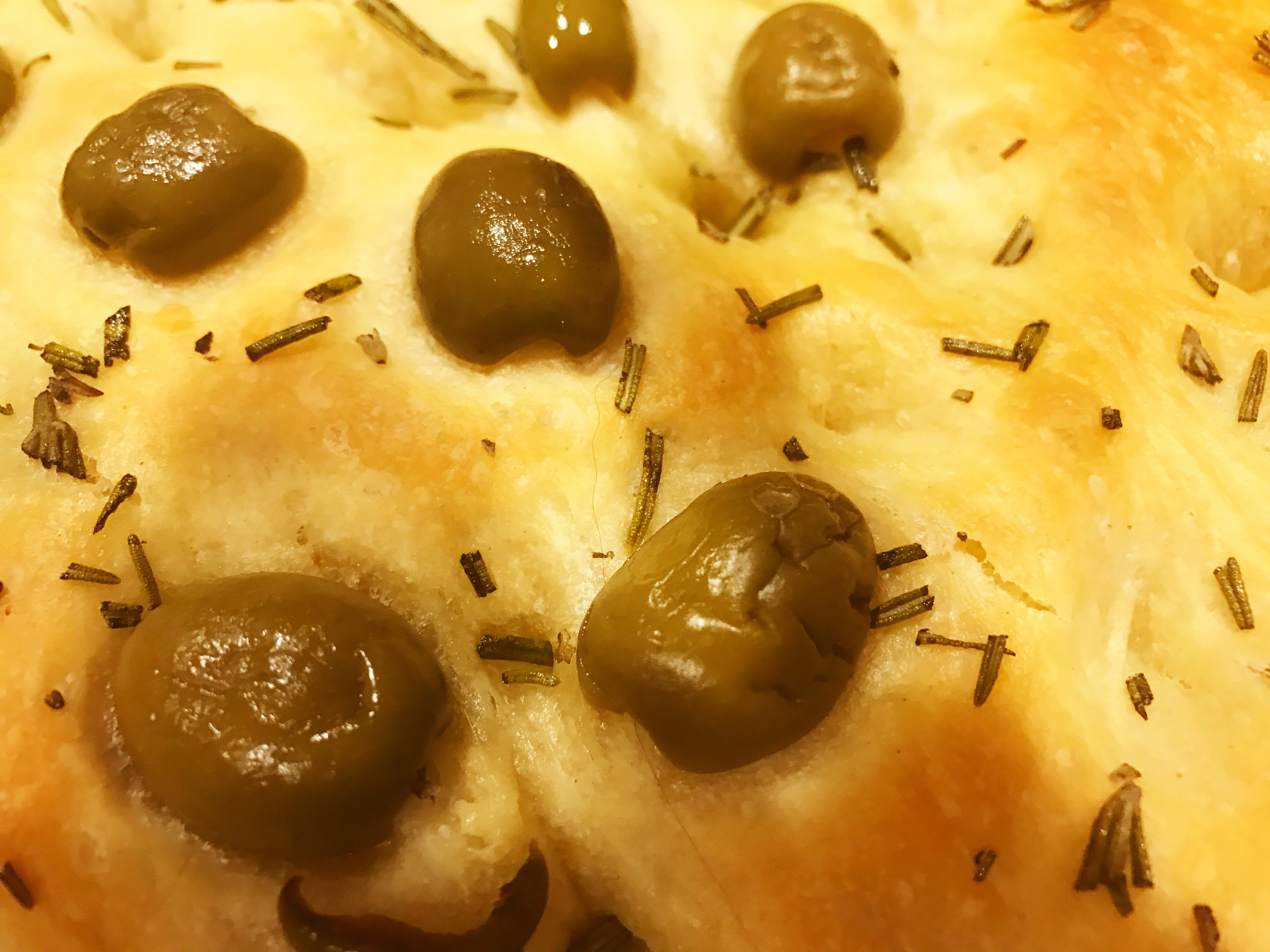 Serves 8
2 cups warm water
2 teaspoons yeast
4 1/2 cups (about) flour
2 tsp. salt
3 tbsp. olive oil
24 green brine-cured olives, pitted and halved
1 tablespoon chopped fresh rosemary
Place 2 cups warm water in a large bowl.  Sprinkle yeast over and stir with a fork.  Let stand until yeast dissolves, about 10 minutes.
Add flour and salt to yeast mixture and stir to blend well (dough will be sticky.)  Knead dough in a mixer or by hand until smooth and elastic. Form into a ball. Oil a large bowl, add dough and turn to coat. Cover with a damp towel and let rise in a warm area (I like to use my oven, heated just to 100 degrees) until doubled, about 1 ½ hours. Punch down dough, knead into a ball and return to same bowl. Cover again and let rise again until doubled, about 45 minutes.
Coat a cookie sheet with 1 tbsp. oil. Punch down dough. Place on the sheet and using your fingertips, press out dough to a 13 x 10 inch rectangle. Let dough rest 10 minutes. Drizzle remaining 2 tbsp. oil on dough. Sprinkle rosemary and olives evenly over surface.  Let dough rise uncovered in a warm area until puffy, about 25 minutes.  
Preheat oven to 475 degrees. Press fingertips all over dough, forming indentations.  Bake until brown and crusty, about 20 minutes.  Serve warm or at room temperature.
If the Italian specialty items I've mentioned (like prosciutto, Taleggio cheese, or artichokes in oil) are not available where you live, you can purchase them online through my local source, Formaggio Kitchen.
My favorite supper dish was gnocchi con salvia e burro: potato dumplings topped with a simple butter and sage sauce. The Venetian version (gnocchi originated in Northern Italy) is so delicate, the dumplings seem to melt in your mouth.
Note: It's easy and fun to use a potato ricer. If you're cooking with a child, they will love it.
Gnocchi con salvia e burro (Gnocchi with butter and sage)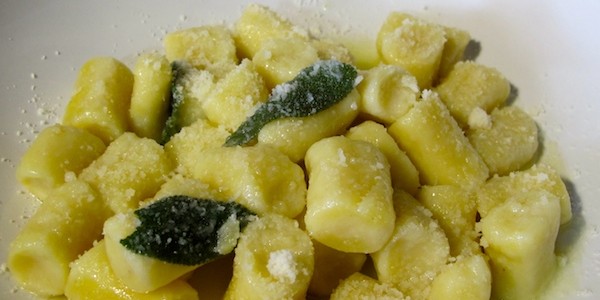 Serves 4
1 ½ lbs. (about 2 medium-large) potatoes, preferably russet
¾ tsp. salt
2 eggs
1 ¼ cup flour, plus more if necessary
4 tbsp. butter
8 fresh sage leaves
Place potatoes in a large pot filled with salted water at a level about two inches above. Bring to a boil and reduce heat to medium-high, cooking until potatoes are tender and can be easily pierced with a knife or fork.
Drain and peel potatoes as soon as you can handle them. Cut each crosswise and press through the ricer. Spread the potatoes on a cookie sheet, salt them, and cool for 1 hour. Once cooled, pile in a rectangular mound and pour eggs over. Sprinkle with 1 cup flour. Use your hands to slowly incorporate all the ingredients. Gently knead, but be careful not to over-knead, as this will toughen the dough.
Divide dough into 4 quarters. Roll each into a rope, about ½-inch thick. Use flour as needed. Using a sharp knife, cut the gnocchi into pieces of about ½-inch each.
Cook gnocchi in a large pot of boiling salted water, being careful that the water is not boiling so rapidly it breaks the gnocchi. After they rise to the top, wait another minute or so and then start testing for doneness. They should appear pillowy.
To make the sauce, heat butter in a small saucepan. When it appears golden (but not brown), add the sage leaves and remove from heat. Pour over cooked gnocchi and top with parmesan cheese, if desired.