Frittelle (Venetian fried doughnuts)
These delicious confections occur twice in the story: first, when Caterina delights her nieces and nephew by letting them shape the dough into rings; and again, at the convent during Carnival season, when the converse (servants to the nuns) set up skillets in the visiting parlor, to fry the dough in boiling oil. In fact, the nuns of Venice were well-known for luring visitors out to see them with all kinds of sweets–doughnuts being a crowd favorite.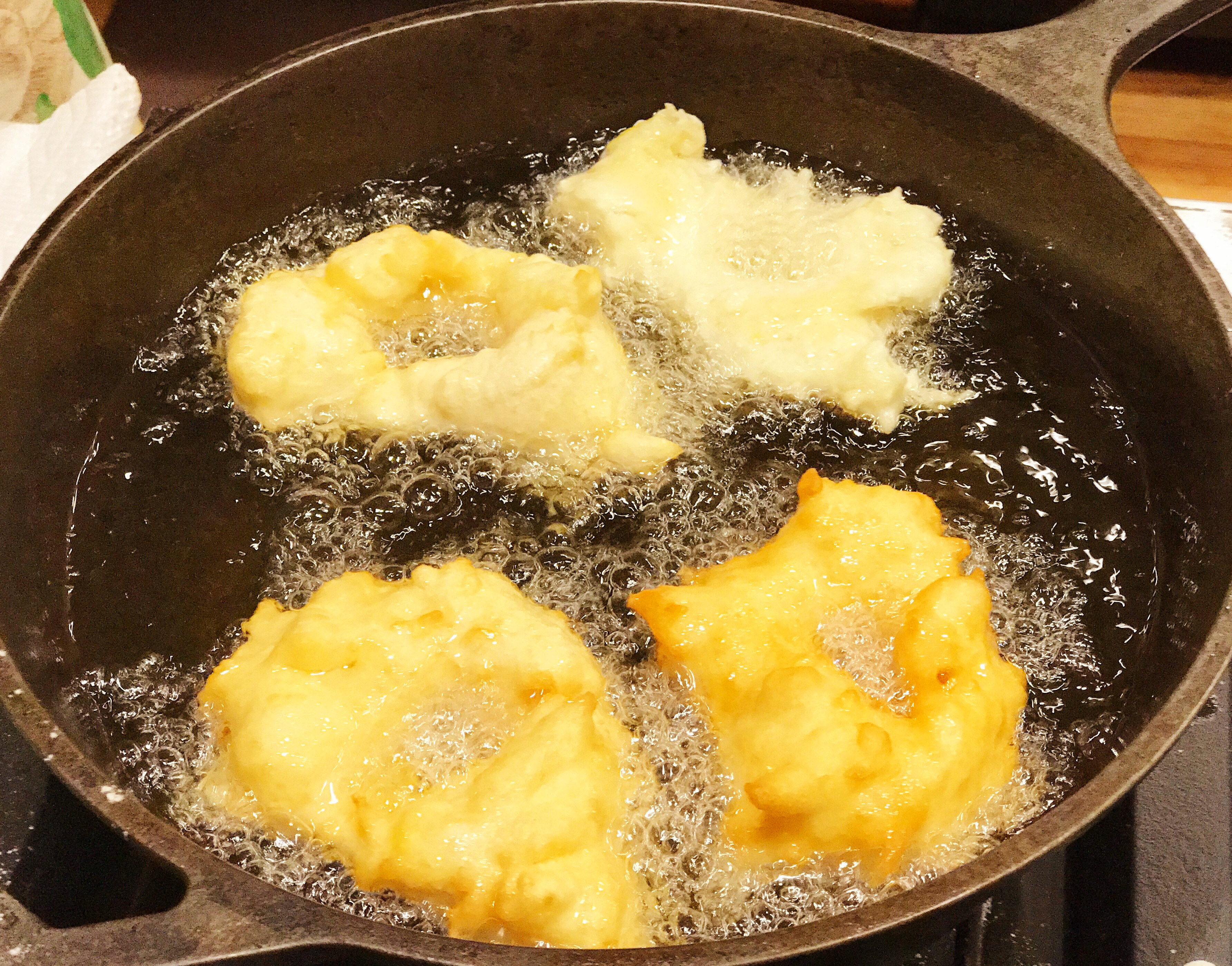 I made these recently with my daughter and can assure you that 1) they weren't really that difficult to make and 2) they were ridiculously delicious.  
Makes about 10 doughnuts
2 cups flour
1/4 tsp. salt
1 tbsp. sugar
3/4 tsp. dried yeast
8 oz. water, lukewarm temperature
1 tbsp. lemon juice
1 tsp. lemon zest
Oil for deep frying
Cane sugar for coating
Put the yeast in the water and set aside for 5 minutes.
Place the flour, salt and sugar in a bowl; mix together and after the yeast is ready, pour the water and yeast mixture into the bowl along with the juice and zest, and mix by hand until a very sticky dough forms. Cover with plastic wrap and let rise until doubled.
Place the oil into a deep pan and heat to a medium-high temperature. Test the oil by dropping a tiny piece of dough into it: if it doesn't begin to fry right away, the oil is too cold; if the dough browns too quickly, lower the heat as the oil is too hot.
When the oil temperature is correct, take a piece of dough (it will be very sticky, don't expect perfection here!) and pull into a rough doughnut shape with a hole in the center.
Drop into the hot oil and continue to make more. It is helpful to have another person frying the doughnuts while one person is shaping them, as it just too difficult to do both things at once, since the dough is so sticky.
The frittelle will rise and cook quickly, so turn them as soon as they begin to brown on one side. Once they are cooked, remove them from the oil and place on paper-towel lined plate for a minute or two.
Drop the frittelle into the sugar and cover completely. Best served when still warm or same day.
Paste e fagioli (Pasta and bean soup)
Caterina has pasta e fagioli ready when Leda first comes to stay with her. This was one of my favorite dishes to make while living in Venice, because during the colder months of the year, with so much seawater all around, you can get a real chill in your bones.  (Prompting the line in the book, To be warm again!  Nothing must be as freezing as watery Venice in winter.) This is the Venetian version of an Italian classic.
Serves 6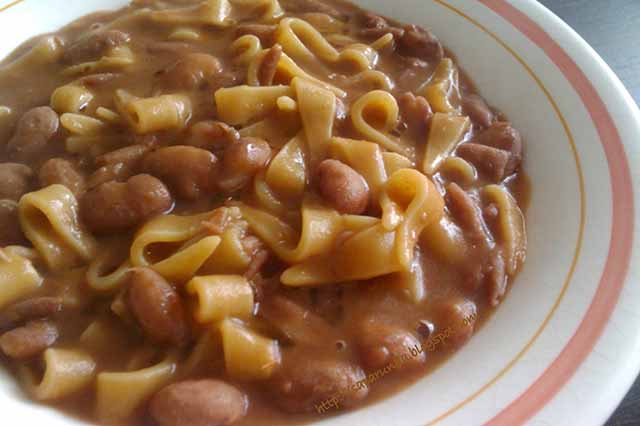 12 oz. dried borlotti or cranberry beans, soaked overnight
2 oz. pancetta (any naturally cured ham here will do)
1 ½ cups extra-virgin olive oil
1 onion
3 sprigs Italian flat-leaf parsley
½ celery stalk
2 tbsp. tomato paste
3 cloves garlic
2 small sprigs rosemary
3 fresh sage leaves
Salt & freshly ground pepper
6 oz. fettuccine
Drain the soaked beans and put in a large, heavy pot.  Cut the pancetta into small pieces and add to the pot, along with 1 cup of olive oil and the minced onions, celery, and parsley; mince one clove of garlic, too.  Add tomato paste, 1 sprig of rosemary and 6 ½ cups cold water.  Bring to a boil over high heat, then reduce heat to medium-low and simmer, stirring occasionally, until beans are very tender, about 2 ½ hours.  Be careful as the soup thickens, because it's easy to scorch the bottom of the pot.  Keep the heat low, stirring as needed.
Meanwhile, heat remaining ½ cup oil in a medium skillet over medium heat.  Add sage, remaining 2 cloves of garlic and the second sprig of rosemary, and cook until garlic is golden, about 3 minutes.  Remove sage, garlic, and rosemary from oil and discard, reserving the flavored oil.
Transfer half the soup to a food processor and puree until smooth.  Be careful not to over-process or the soup will get "foamy".  Stir back into pot, then stir in flavored oil and season to taste with salt and pepper.
Add pasta to soup and cook, stirring often, until tender, about 15 minutes.  Garnish with parsley and a drizzle of olive oil, if you like.  
Risi e bisi (Rice and peas)
Caterina cooks the Venetian classic risi e bisi for her favorite cousin, Zulietta.  While I don't think the sea gods will swallow you up if you cook this dish out of season, waiting until spring arrives is more in keeping with authentic Italian cuisine.
Serves 4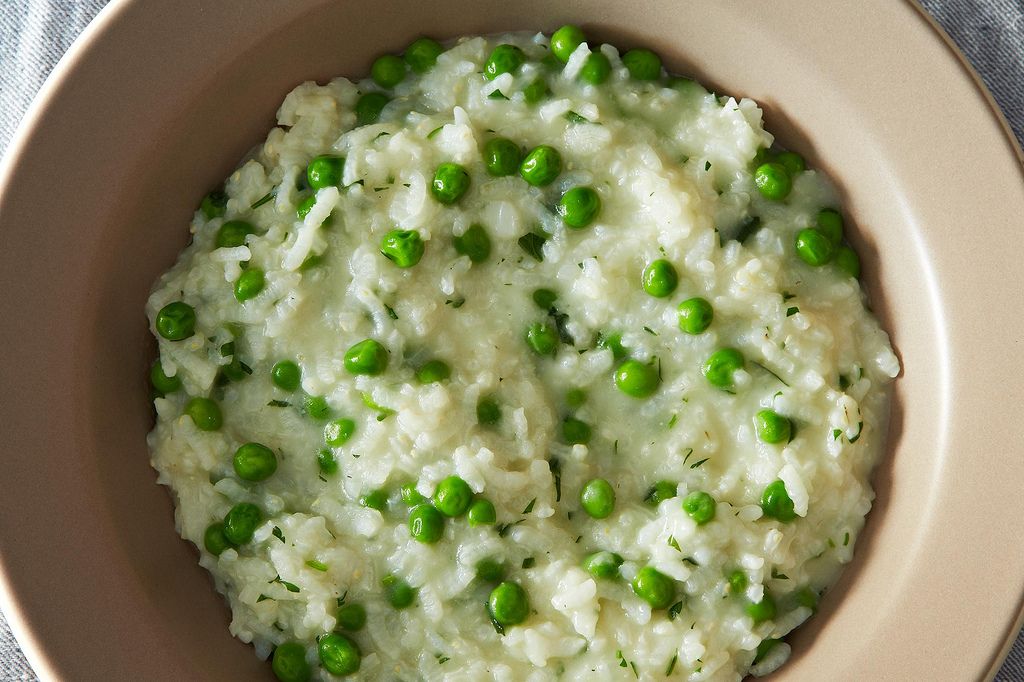 1 ¾ lbs. fresh peas in pods
Salt and freshly ground pepper
4 tbsp. butter
2 oz. pancetta
1 onion
2 tbsp. Extra-virgin olive oil
1 ⅓ cups carnaroli rice
½ bunch parsley leaves
Fresh Italian parmesan cheese
Shell peas, reserving pods.  Place pods in a medium pot with 8 cups lightly salted water.  Bring to a boil over high heat, reduce to medium low, and simmer for 1 hour.  Strain broth into a medium pot, pressing on pods. Discard pods. Keep broth warm over low heat: you will be using it to make the risotto.
Melt 2 tbsp. of the butter in a large, heavy-bottomed pot over medium heat.  Add diced pancetta and minced onions and cook, stirring, until onions are golden, about 10 minutes.  Add peas and ½ cup of the warm broth.  Cover and cook until peas are tender, 5-10 minutes.
Increase heat to high, uncover, and cook off any remaining liquid. Add oil. When oil is hot, add rice and stir to coat well.  Add about ¾ warm broth and cook, stirring constantly, until most of the broth has been absorbed. Add about ¾ more broth.  Continue cooking, stirring and adding broth as needed until rice is tender but firm to the bite, about 20 minutes.  Resist the understandable urge to dump all the broth in at one time. Risotto is a slow process.  
Remove from heat and season to taste with salt and pepper. Stir in 1 more cup of broth, remaining 2 tbsp. butter, parsley, and ½ cup parmesan cheese.  Serve with additional cheese, if desired.