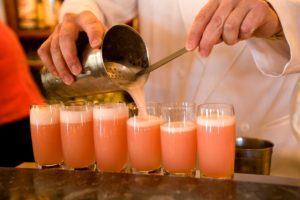 Nothing is more succulent, refreshing, and redolent of beautiful, dream-filled Venice, than a peach Bellini. It originated at Harry's Bar and is named for the Venetian artist Giovanni Bellini, who painted the altarpiece in the church of San Giovanni Crisostomo featured in my book.
Prosecco originates in the Veneto region and its first mention in print is in 1754, the very year the story I tell takes place! Today, Prosecco is one of the fastest growing sparkling wines, appreciated around the globe. But it can still only be produced in the Prosecco region around Venice. Look for the letters DOC or DOCG on the bottle, to be sure that you have authentic Italian sparkling Prosecco.  
Bellini for two:
2 oz. (¼ cup) very cold white peach puree
6 oz. (¾ cup) very cold Prosecco: a type I love is Mionetto from the north of Venice
Combine and pour into two chilled glasses. Then imagine you are in Venice, in a busy, open square like Campo Santa Margherita, where laughter and conversation echo off the old stones and fill the night.
Note: Champagne and sparkling wine expert Becky Sue Epstein recommends you might step up your Prosecco game with sparkling wines produced in the tiny, exclusive Rive or Cartizze areas. (The names will be listed on the label). They may cost somewhat more, but are worth it for their complexity of aromas and flavors.  This is Prosecco on a whole new level!
Click here to learn more about Prosecco and other sparkling wines around the world.
Fresh white peach puree is available in gourmet shops and online.
Or, make your own in season!